Water Recreation
With 33 all-public beaches, Anguilla is a beach-hopper's dream. Laze in the sun, snorkel or swim, or rent a paddleboard or kayak. Walk down the paved path next to the villa to Sandy Point Beach, you'll likely have it all to yourselves. We have beach chairs, towels, volleyball and bean bags for you to enjoy and you can add an optional beach butler for additional charge. Larger Rendezvous Bay Beach and Meads Bay Beach are just 5- to 10-minutes by car. Or head over to Shoal Bay East for an afternoon. Most beachside bars and restaurants offer complimentary use of their loungers as long as you purchase food and drinks.
Anguilla is home to seven marine parks and offers wall, ledge and wreck dives. We recommend Doug Carty of Special D Diving. Our concierge can arrange for you.
You can snorkel off Sandy Point Beach. Just walk down the paved path next to the villa. We have some snorkeling gear and our concierge can rent additional sets, as well as book one of the many snorkeling boat tours on island.
Boating and sailing are at the heart of Anguilla's heritage with around-the-island races throughout the year. Due to tricky-to-navigate coral reefs, all boat trips in Anguilla come with a local captain. Spend the day or a few hours on the sea with Gotcha Garfield Sea Tours, Calypso Charters or marvel at sealife on Jr.'s Glass Bottom Boat. Sail off into the sunset on historic Tradition. Our concierge can book for you.
Hop a boat to an offshore cay to play castaway for the day and enjoy a fresh-grilled lobster or Anguillian crayfish feast. Sandy Cay is an idyllic beach in the middle of turquoise waters perfect for snorkeling, Prickley Pear is further out and has more terrain to explore. To get to Scilly Cay, just walk out on the pier at Island Harbor and wave and the boat will come over and get you. Hours and pricing vary and our concierge can assist.
Kitesurfing is a combination of wakeboarding and windsurfing. You are strapped into a harness attached to a large kite. Catch the wind with the kite and then catch the waves. Local guides offer instruction packages for both expert and novice surfers.
Anguilla Watersports offers paddleboard and kayak rentals, instruction and tours for every skill level. Equipment can even be delivered to the villa. Or explore the nighttime sealife with Liquid Glow in a transparent kayak equipped with a light.
Fish off the shore with your local guides at 4Shore Fishing. Rods, tackle and bait are provided and you'll learn about the local species and tricks of the trade. Or head out on a boat for some deep-sea fishing.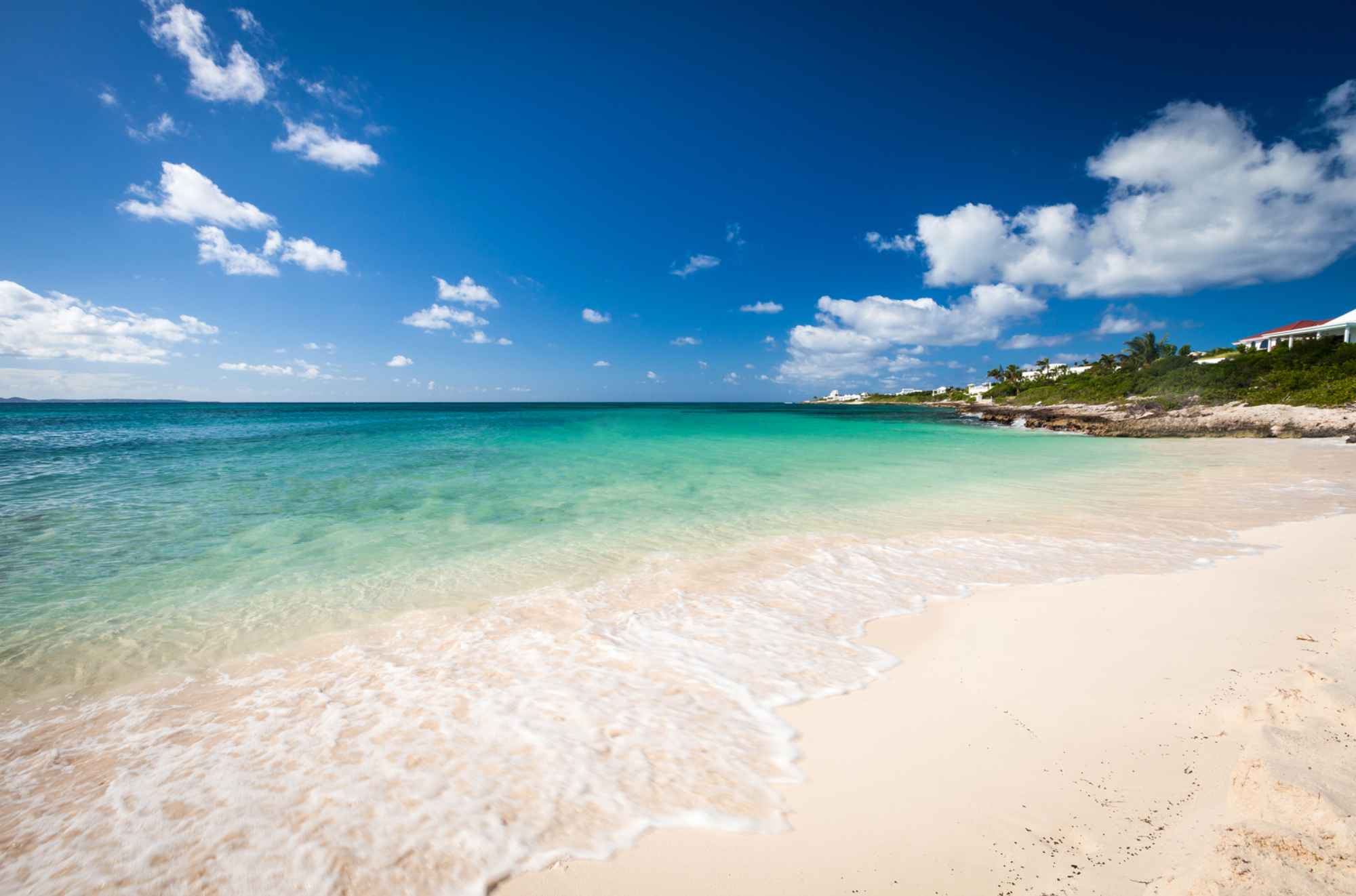 Land Recreation
Explore historic landmarks, fossil-laden cliffs, rocks, salt ponds, sinkholes, ancient caves, craggy coast line, the famous Anguilla Arch and remote windswept beaches. Local guide, Quest Experiences, offers hikes for every age and skill level.
Aurora Anguilla's newly-transformed Greg Norman designed golf course has challenging elevation changes, multiple water features and panoramic views of the Caribbean Sea, and it's just a 10-minute drive from Villa Alegria. There's also a 9-hole short course. Learn the sport, sharpen your swing or join a tournament. Prices vary by season and non-resident memberships are available. Or head over to Island Harbor for a round of mini-golf and a Tropical Treat ice cream.
Minutes from Villa Alegria is the Anguilla Tennis Academy, which offers state-of-the-art courts and professional instruction for adults and kids of all ages. Reservations for courts and camps can be made through our concierge or at (264) 498-0697.
Ride at sunrise or sunset, and even during the full moon. Blaze a bush trail, or travel along the beach and end in the water with your horse for a swim. Seaside Stables offers group (maximum six horses per tour), semi-private and private rides, as well as pony rides for children accompanied by a handler. Most rides are 30 or 60 minutes and center around Cove Bay, an untouched natural beach on the southern coast, as well as Merrywing Bay, Maunday's Bay and Shoal Bay West. The safety of her guests and horses is a top priority and she keeps things casual and fun.
Music
Anguilla has a vibrant music scene. Talented artists perform at resorts, bars and restaurants every night. The Tourist Board publishes a weekly schedule on Facebook. You might bump into Jimmy Buffet while mashing sand (dancing) at the Anguillian Bob Dylan Bankie Banx's ecletic venue built of salvaged wood from old boats, Dune Preserve. Bankie's son Omari, a former cricket star, is following in his father's musical footsteps. Great music is always on the menu during the annual Moonsplash festival, which attracts artists from around the world.
We are friendly with most of the musicians on the island and many have played for private events at Alegria. If you are celebrating a special occasion, or just want to enjoy the island sounds at your villa, our concierge can help book one of these amazing artists for a private concert or event.
Shopping & Art
Anguilla isn't known for its shopping, but there are several t-shirt, jewelry and boutique clothing stores where you can pick up a souvenir, as well as art galleries showcasing local and international artists. Lynn Berbaum's gallery is a favorite. Unlike the tacky tourist shops of some islands, the merchandise is more unique and often locally handcrafted. If you want to shop til you drop, the Caribbean "Paris" is just a short 20-minute ferry ride away in French St. Martin.
Lynn Bernbaum showcases her and other international artists' original oil and watercolor paintings in her Sandy Ground gallery. Her series featuring Anguilla's beloved goats is a favorite with her clients.
At Cheddies Carving Studio, Cheddie Richardson intricate drift wood carvings of birds, dolphins, turtles and fish come to life.
At Devonish Art Gallery, Courtney Devonish shares his wood and ceramic sculptures, along with his wife Carolle's beaded jewelry.
Savannah Gallery features contemporary Caribbean art including paintings, sculpture, crafts and prints by resident Anguilla artists, as well as a Haitian collection.
Spas & Wellness
Rejuvinate your mind and spirit at one of the nearby resorts' full-service spas. Have our concierge book you a package or choose a la carte and feel the stress of everyday melt away.
Nothing is more relaxation than an alfresco massage or facial on Alegria's oceanfront terrace. We can also bring in a barber, manicurist/pedicurist, hair stylist or makeup pro to help you prepare for a wedding, special night out or when you just need a little pampering.
Food & Wine
Dubbed the Culinary Capital of the Caribbean, Anguilla is home to over 100 one-of-a-kind restaurants, from roadside barbeque shacks and mom-and-pop cafes, to beachside bars, to 5-star fine dining. Unspoiled by fast-food chains, even the most-humble eateries serve up expertly-prepared dishes cooked with passion. You can dine beyond your villa, as the island is easy to explore and restaurants are open to everyone. Our pristine waters are home to the freshest fish and seafood, including lobster-like crayfish that are only available here. The cuisine reflects the diverse talents of both Anguilla-born and transplanted chefs from around the world. Food is always a 10, and you can enjoy it without dressing to the nines. Some of our favorites are: Veya, Ember, Blanchards, Jacala, Tasty's, Straw Hat, Picante, Savi Beach Club, Ben's Pit Stop, Sharky's, Sandbar and Blanchard's Beach Shack.
We can stock your kitchen with all of the food, beverages and provisions you love (cost of goods plus a small service fee). Many guests like to eat breakfast at the villa, lunch at a beach (most restaurants let you use their beach chairs for free if you buy food and drinks) and dinner at a different restaurant each night. Nearby grocery stores carry well-known brands and you can pick up fresh produce and juices at Vinty's Veggies and Rainbow Farms. Kosher meats can be ordered in advance from Merchant's Market. If you need a birthday cake or other specialty item, just ask.
Our friend Nathalie runs Grands Vins de France Anguilla. She supplies wine for the island's restaurants and resorts and offers exceptional wines, Champagnes and spirits for sale at her South Hill retail shop. Stop in for a bottle or two, or have our concierge arrange delivery to the villa.
Many of the island's restaurants and resorts have earned a Wine Spectator Best of Award of Excellence and offer menus with customized wine pairings and unique events.
Side Trips
Just eight square miles, this go-to for the rich and famous offers glitz and glamour. You can fly Anguilla Air Services there in the morning and be back later that evening. Grab a leisurely lunch as you watch the people and harbor views, indulge in a little retail therapy, or bask on the beach. Visitors often get together to share a private charter.
Anguilla's nearest neighbor is just a 25-minute public ferry or sea shuttle ride away or 8-minute flight on Air Anguilla. If your travel plans allow, stop and sample what this split personality island has to offer on your way to or from Anguilla. Or travel over for the day. Most visitors prefer the quiet ambiance, high-end stores and fine dining on the less populated French or St. Martin side of the island rather than the casinos, cruise ship crowds and tourist traps on the Dutch side Sint Maarten. The island is also the jumping off point for travel to neighboring islands.
This Dutch gem is known as the "Unspoiled Queen" of the Caribbean and a favorite for scuba diving, climbing and hiking. The island's conservation foundation works diligently to protect the island's ecosystem. The waters, underwater volcanic rock towers and coral reefs surrounding the five-square mile island are protected as a national marine park and are home to more than 150 species of fish. Saba is a 12-minute flight from Dutch St. Maarten.
Cultural Experiences
Learn the art of making this Caribbean staple from Quest Experiences. These humble, yet mouthwatering treats, are either baked or fried and served dripping with butter or stuffed with cheese and fish. You'll get to prepare, cook in a traditional rock oven, and then eat the fruits of your labor.
Travel back in time as you harvest salt by hand from one of Anguilla's historic salt ponds. Quest Experiences will share the science behind this naturally occurring resource, which was once a major export for Anguilla. Stop by Sands and Salts retail shop for herb and spice-infused bottled options.
Although rum is no longer produced in Anguilla, you can sample Caribbean and old world rums curated by local rummeliers at Zemi Beach House's intimate Rhum Room on Shoal Bay Beach or in the Wine Cellar at Savi Beach Club on Meads Bay Beach. Advance reservations are required, which our concierge can arrange. Private rum tastings may also be arranged at the villa.
Kitemaking is a beloved springtime tradition in Anguilla, with old bedsheets and fishing line often going missing. Learn how to build "from scratch" and fly your very own kite with Quest Experiences.
More Ideas for Kids
Kids and adults can test their putting skills at Anguilla's only 18-hole Mini Golf Course located in Island Harbour. Unique holes meander through gardens and waterfalls. After the game you can refresh with an ice cream at Tropical Treats. Book in advance or walk in. Open in the afternoon and evenings most days.
Located on Meads Bay Beach on the West End, Anguilla's Fun Zone is a kids dream with pool, waterslide, kid-friendly snacks and activities. A great place to celebrate a birthday.
The Anguilla Animal Rescue Foundation (AARF) is dedicated to the welfare of dogs, puppies, cats and kittens. The 100% volunteer–driven non-profit has an adoption center and rescue shelter at Morlens Veterinary Clinic in Sandy Hill. AARF often allows visitors to stop in for a cuddle with some four-legged friends.
Cheer on the home team at a youth or professional football (soccer) game or cricket match. Games are held at Ronald Webster Field.
Improve your kids' technique and water safety knowledge within the privacy of your own pool. Our concierge can arrange private lessons at Villa Alegria.